We are your competent partner for innovative solutions regarding container systems for waste and recyclable material disposal. With the help of our customers and our own initiative, the IVB Umwelttechnik GmbH has managed to have a lot of our innovations patented, such as:
---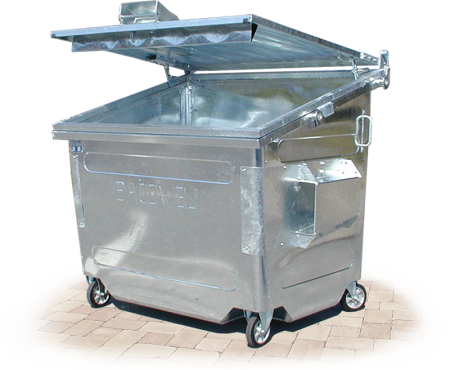 The frontal discharge containers
with spring balanced steel cover

The spring balanced steel cover permits opening without a lot of effort as well as an especially practical discharging. The driver of the waste collection vehicle does not have to get out of the vehicle during the emptying process, even though the user has locked it with his padlock. The patented lid system is designed in a way that the lid unit only opens during the emptying process after the container is located between the opened shaft covers.
+++ No premature falling out of waste materials +++ High time saving
+++ Clean emptying +++ Lower amount of work +++
---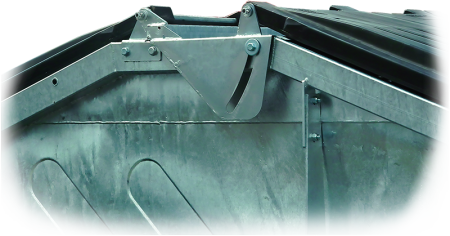 The tilt-flap for frontal discharge containers
Thanks to the unique tilt-flap of IVB, the entire cross-section of the container opens above the verhicle shaft during the tilting process. The waste slides out more easily, cardboards don't jam. And thanks to the wind protection due to the lugs on the side, there is no wind-blown dispersal of papers and foils.
+++ Enlarged pouring space +++ Clean emptying +++
---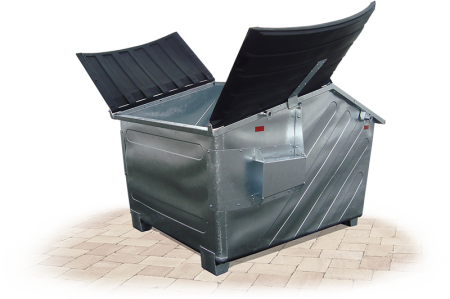 The FUB-ramp container

For an ever easier filling, thanks to the laterally expandable plastic lid at the back of the container.
---
To enlarge our product portfolio we are now offering the following products as well:
the MGB 1280 l with plastic lid,
the frontal discharge container FUB 5,0 with container width 1600mm with 4 KD or patented tilt-flap
the emptiable tilt container UB 2,5 for emptying with the help of a forklift
the FUB 1,7 with a one-piece plastic lid in a new design as well as hot-dip galvanized skips in the sizes 5,0m³ / 7,0m³ and 10,0m³, which are specially designed for the rough handling of daily life (due to zinc layer)
---
You have questions? – If you're not curious, you're not going to find out!
Our sales team is there for you.